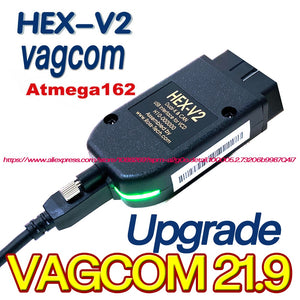 2022 Popular NEWEST VCDSCAN HEX V2 Interface VAGCOM 21.9 VAG COM FOR VW For AUDI Skoda Seat Vag Multi-Language Car Diagnostics
If the language version you want shows out of stock, please contact us and we will check the stock information for you.

The product supports vehicles from 1996 to 2018. Please purchase real V2 for vehicles after 2018.
Not Lite version ,it is Full Version !! Support multiple languages!!!


Pack the package within 24 hours !!
Deliver it from the local warehouse, and deliver it within 2-5 days as soon as possible! !
We provide the following services:
1. Installation steps
2. Installation video
3. Online installation
 
English:21.9
French:21.9
Russian:21.9
German:21.9
Polish:21.9
Hungarian:21.9
Dutch:21.9
Romanian: 21.9
Denish: 21.9
Portuguese :21.9
Spanish:21.9
Swedish:21.9
Czech:20.12
Italian:21.9



Attention !!!
1、The CD may be easily broken on the way to destination, so if CD can't be readable, please do contact us to send you download link, do not dispute or Negative Feedback for this.
2、About Update: Software can't be updated !!!
3、Compatible Cars: Support cars for v-w for au-di for se-at for sko-da
4、All cables we have tested before packing, but we can not guarantee it will work caompatable with every buyer's Computer Systemsand Cars.
5、Not supports PC USB 3.0 , must be USB 2.0 ! Cable must be connected with car, then LED can be light !!!!
6、Pls turn off the Anti-virus Software and disconnect internet before installing and using every time , because software was cracked version, can not recognized by Anti-virus software, so some files will be reported to virus, but in fact it is harmless and necessary to install ,If you worry about the "virus"will infect your laptop , pls do not buy this item.
7、No need change the PC date. If you don't want to turn off the Antivirus software, you need add the related files to Trust in Antvirus software, so will not be deleted by it.
8、Systems required: (32bit/64bit) of Windows 7, Windows XP, Windows 10 (but not all Win10 can work). Not supported Windows on VM Systems (Parallels, Virtual Box, etc) ,MAC
Support for newer 2018 models)
Compatibility with the latest VAG Models
Long Coding Assist (LCode) updated
Special Functions for V W Touareg (7P) EPB
Windows 10 Compatibility
Revised and expanded Label Files.
Features:
1. Fully compatible with V W, Au di, Se at and Sko da models through the current
model year, including models using a direct CAN connection for diagnostics.
2. Can use the new 7-Digit PIN/SKC codes to match new keys in all immobilizer
equipped V-W/Au-di/Se-at/Sko-da models.
3. Can access all control modules which require proprietary VAG modes running
the KWP-2000 protocols (2001+ Teves Mk.60 ABS, numerous 2002+ modules), KWP6000
(CAN) and/or KWP7000 (UDS).
4. Completely revised and expanded ROD (ODX) Data. Including coverage for all
the latest models of cars such as the new 4G-chassis Au di A6. The structure of
our ROD data has also been revised to eliminate much redundancy and keep the
installer size reasonable.
5. Support for new UDS addresses required for compatibility with new systems
found in latest car models.Auto-Scans now show sub-system label file names.
6. EDC15-16 Mileage reading now includes support for some EDC15 V6 TDI ECUs.
7. Revised and expanded Label Files More than 350 new or revised files since the
last dataset.New USB Drivers.
Package list:
1x HEX-V2 USB Interface
1 x CD Software , if the cd is crack, contact us and you can also get the software from our link or send by email.
---
We Also Recommend
---