V-checker T501 TPMS Tire Pressure Monitoring System Tire Internal Sensor
V-checker T501 TPMS Tire Pressure Monitoring System Tire Internal SensorProduct Description 
V-checker 
TPMS T501 is
a
new product designed and produced by V-checker technology.
Adopting Infineon solution, our TPMS device mainly consists of 4 tire sensors modules and a
4" 
LCD color screen monitoring the vehicle status and showing all related information such as tire pressure & temperature in real time.
 Also a L-capacity rechargeable battery is inserted inside the host (or we say the main device) and a high-efficient solar panel is equipped as well. And the integrated circuit board built-in is designed for low power consumption. With all 3 delicate elements above, the endurance of the device is up to 45 days, which offers profound assistance for long road trips. 
What's more the TPMS can be connected with your intelligent mobile phone via our self-developed
Android and iOS Apps available in Google Play and App Store (Scan the QR code on the package to download APP). 
Main Features
4" LCD Screen and Brilliantly Colorful Display.
Smart Sleeping Mode for Energy Conservation.
Multiple Placements -- On Dashboard or On Windshield.
Flexible Adjustment of Viewing Angles and No Visual Blind Area.
Multiple Status Monitoring and Real-time Warnings Upon Any Abnormal Situations.
High Efficient Solar Panel and Large Capacity Battery Support Continuous Usage for 45 days.

DO YOU KNOW ?
20% under-inflation reduces tire lifetime by 30%;
30% over-inflation reduces tire lifetime by 45%;
30% pressure lower looks like proper inflated tire
So you need a V-checker® T501 TPMS to monitor tire dynamic pressure, warn early of abnormal tire pressure, improve fuel efficiency, increase tire life and traffic safety.
Specification
Package characteristics
 
Dimensions(D x W x H)
255mm x 130mm x 79mm 
Weight
0.40Kg
Host

 

characteristics
 
Operating Frequency
433.92MHZ
Operating Voltage
3.5 - 6.0V
USB Charging Current
≤ 600mA
Operating Environment Temperature Range
-20 - 85℃
Sleeping Mode Current
< 1mA
Environment Temperature Range for Long-term Storage
-40 - 85℃
Monitoring Air Pressure Range
0.0 - 4.0 Bar
Supported Bluetooth
Bluetooth 4.0 Version or Above
Monitoring Temperature Range
-40 - 85℃
Battery Capacity
2000mAH
Solar Charging Time
4Hours
Operating Environment Humidity Range
0 - 100%
Receiving Sensitivity
3dB
Tire Sensor (External)

 

characteristics
 
Battery
3V Imported Lithium Battery
Sensor Chip
Infineon
Operating Environment Humidity Range
0 - 100%
Operating Environment Temperature Range
-55 - 125℃
Air Pressure Range
0.0 - 4.0Bar
Radio Frequency
433.92MHZ
Transmitting Power
≤ 5dBm
Pressure Display Accuracy
0.1Bar
Temperature Measuring Accuracy
2℃
Weight
9grams

Battery

 

Life
2-3 Years(depending on the actual usage conditions)
Tire Sensor (Internal)

 

characteristics
 
Battery
3V Imported Lithium Battery
Sensor Chip
Infineon
Operating Environment Humidity Range
0 - 100%
Operating Environment Temperature Range
-55 - 125℃
Air Pressure Range
0.0 - 4.0Bar
Radio Frequency
433.92MHZ
Transmitting Power
≤ 5dBm
Pressure Display Accuracy
0.1Bar
Temperature Measuring Accuracy
2℃
Weight
60grams

Battery 

Life
5 Years(depending on the actual usage conditions)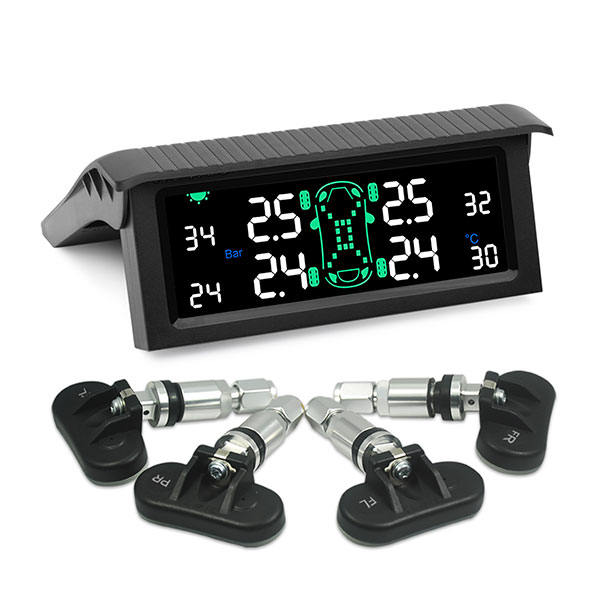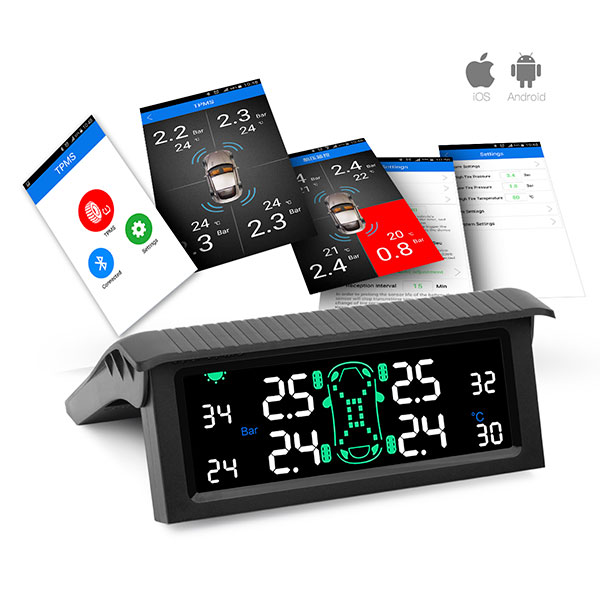 Package includes:
1pc x T501 Main Unit
4pc x Tire Internal Sensor
1pc x USB Charge Cable
4pc x Adhesive Tape
1pc x User's Manual
---
We Also Recommend
---